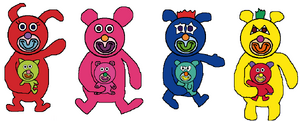 These are just like fanmade sing a ma jig duets but now they split up. You can even conjoin the big ones with different little ones, such as plum with yellow puppy, or gold with pink teddy bear, or sea green with green koala, or royal blue with pink baby, or red with green kitten.
Section heading
If  both of them sing one song when conjoined, It's my beleif that the big one and little one should sing  their own seperate songs when split up.
Section heading
Ad blocker interference detected!
Wikia is a free-to-use site that makes money from advertising. We have a modified experience for viewers using ad blockers

Wikia is not accessible if you've made further modifications. Remove the custom ad blocker rule(s) and the page will load as expected.