This is the all new fanmade aqua birthday sing a ma jig. He is just like the aqua sing a ma jig, except he has quite a few differences. For example, his middle ear is replaced with hair the same color as the pink one's shirt. He has a blue nose and a green mouth and the same voice as the blue sing a ma jig. He also opens his mouth as a square instead of a triangle. He has a red shirt with green sleeves and the words happy birthday in blue lettering. He sings happy birthday like all sing a ma jigs, signs in and out just like the birthday tenor, and enters song mode the same way as the hot pink.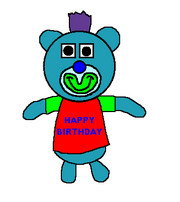 Ad blocker interference detected!
Wikia is a free-to-use site that makes money from advertising. We have a modified experience for viewers using ad blockers

Wikia is not accessible if you've made further modifications. Remove the custom ad blocker rule(s) and the page will load as expected.