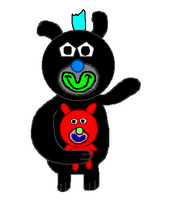 This is a sing a ma jig duet by Punchcar63. This is the first Halloween Sing-a-ma-jig Duet. As you can see in the picture, they both have pentagon eyes. The big one is black with the same ears as the new yellow one, turquoise hair, a sky blue nose and a green mouth. It has the same hands and feet as the orange crayola sing a ma jig, has the same voice as the witch and holds a red bunny. The little one is red as you can see, with the same ears as the little one from the fanmade apple duet, a light green nose and a blue mouth. It has the same voice as the Pumpkin. They sing "Trick or treat" just like the halloween sing a ma jigs, but duet style.
Sign in: Big one: Hello there! Little one: Hey there!
Song mode: Both: Song! (1 AT A TIME)
Sign off: Big one: Happy Halloween! Little one: Happy Halloween! Bye bye! 
After "If you don't, we don't care.": Big one: Boo! Scared you! Little one: Aw, yeah. Indeed we did.
Ad blocker interference detected!
Wikia is a free-to-use site that makes money from advertising. We have a modified experience for viewers using ad blockers

Wikia is not accessible if you've made further modifications. Remove the custom ad blocker rule(s) and the page will load as expected.