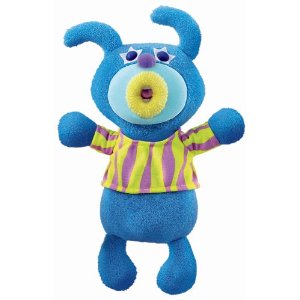 Main information
The blue Sing-a-ma-jig (sometimes called teal to avoid confusion) is the main Sing-a-ma-jig out of the other main 3.
More information
Singing range: Tenor
Animal: Canine (dog)
Main colors: Blue fur, violet nose and yellow mouth
Song: When The Saints Go Marching In
Eye Shape: Star
Shirt: Long sleeves with yellow and lavender stripes
Specialty: He's the only Sing-a-ma-jig out of the original four that doesn't have the same sign off as the other 3.
Release Date: He was manufactured and sold in 2010. He was first marketed in mid-June, 2010.