Looks
Jonnie is neon purple with a blue nose and red mouth. He sings "Fah Fah Fah Fah"
His shirt is pink with green dots, similar to that of
Dark Purple
.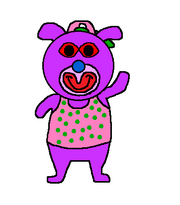 Lyrics to his song
Fah you
Fah them
Shout!
Fah, fah, fah, fah!
Blah,blah, FAAAAAAAAAHHHHH
Phrases
Hey dudes, you're stinking out-Jon for fans! (Sign on/first squeeze)
EETH! (Song mode)
See you later! (Sign off)
Ad blocker interference detected!
Wikia is a free-to-use site that makes money from advertising. We have a modified experience for viewers using ad blockers

Wikia is not accessible if you've made further modifications. Remove the custom ad blocker rule(s) and the page will load as expected.