Looks
Kee is fiery orange with a shirt like
Blush
, but it is neon yellow with rainbow hearts. She sings "She'll be Comin' Round the Mountain When she Comes" like the lemon singamajig.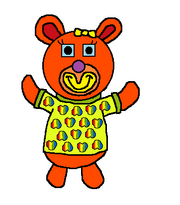 Phrases
WAKE UP! (Sign on/first squeeze)
I thought we'd sing about mountain music! (Song mode)
I'm redneck. Anyways, bye. (Sign off)
Facts
Its chattering sounds are recycled from Darcy (not including "Hi!")
Ad blocker interference detected!
Wikia is a free-to-use site that makes money from advertising. We have a modified experience for viewers using ad blockers

Wikia is not accessible if you've made further modifications. Remove the custom ad blocker rule(s) and the page will load as expected.