This is the new Orange crayola exclusive sing a ma jig. He is orange with rabbit style ears, hands and feet. He has black round eyes, a light purple nose and a dark green mouth. He has the same hand and foot pose as the purple, with the same voice as the sing a ma jig "The hits" red all-star one, and a crayon wrapper style shirt that says "Orange" on it. He sings "O-r-a-n-g and e! That right there spells orange!" to the tune of old mac Donald.
Sign in: Hey, how are you.
Song mode: Orange song!
Sign out: Bye for now kid!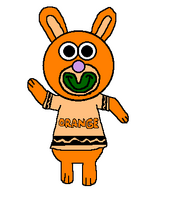 Ad blocker interference detected!
Wikia is a free-to-use site that makes money from advertising. We have a modified experience for viewers using ad blockers

Wikia is not accessible if you've made further modifications. Remove the custom ad blocker rule(s) and the page will load as expected.