This is the Sailor moon sing a ma jig who is the first Sailor scout sing a ma jig. She is yellow, with round ears, blond hair the same as the real Sailor moon, with the rubies on her ears, Cresent eyes, a blue nose and a red mouth. She has the same suit as the real sailor moon which can be removed, the same hands and feet as the "Girls just wanna have fun" sing a ma jig and the same voice as the english dubbed sailor moon. She sings "The Sailor moon theme song"
This is her sign in, and out, and song mode
Sign in: Hello, It's me. Sailor Moon
Song mode: MOON SONG POWER!! Sing this with me! (Just like Sailor Venus)
Sign out: Bye bye!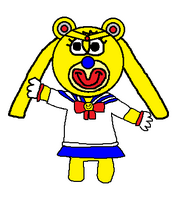 Ad blocker interference detected!
Wikia is a free-to-use site that makes money from advertising. We have a modified experience for viewers using ad blockers

Wikia is not accessible if you've made further modifications. Remove the custom ad blocker rule(s) and the page will load as expected.