This Hits singamajig is exactly like the lemon, but his shirt is orange with yellow sleeves, red dots and the words "Shake it" in a purple retro font and his hair is blue. His nose is red and his mouth is green and so is his fur, but the greens are different. His mouth's dark green but his fur is electric green.

Here's how he signs on: Hey, dude!
Here's how he enters song mode: Let's rock!
Here's how he signs off: That was totally radical! Later kid!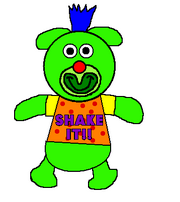 Ad blocker interference detected!
Wikia is a free-to-use site that makes money from advertising. We have a modified experience for viewers using ad blockers

Wikia is not accessible if you've made further modifications. Remove the custom ad blocker rule(s) and the page will load as expected.