This yellow giant sing ma jig has Black circle eyes, a nose being the same color as the light blue sing a ma jig's fur, and a red mouth. He has a voice similar to the Mint green sing a ma jig but talking is more Mezzo Baritone. He has the same shirt as the Rose red one but it's orange with blue sleeves.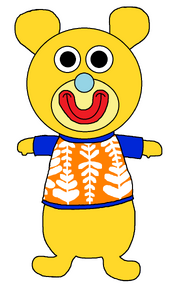 Songs: It's raining it's pouring, Rain Rain go away, The Farmer in the dell
Sign on: Howdy Partner!
Song 1 Mode: Let's sing.
Song 2 mode: Now how about this one?
Song 3 mode: Let's do another one.
Sign off: Goodnight.
Ad blocker interference detected!
Wikia is a free-to-use site that makes money from advertising. We have a modified experience for viewers using ad blockers

Wikia is not accessible if you've made further modifications. Remove the custom ad blocker rule(s) and the page will load as expected.